Ginger Skinner – Portland Estate Planning Attorney

Expert Advice. Personable Service.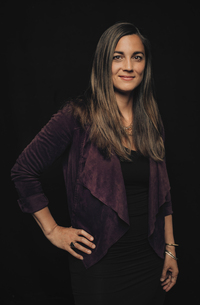 Ginger Skinner enjoys providing expert advice and personable service to her clients to address their estate planning and administration legal needs. With a Master of Laws (LL.M) in taxation, Ginger is uniquely capable of providing families with tax-sensitive estate planning and administration. She often works with her clients' advisors such as financial planners and accountants.
Ginger operates with a down-to-earth, no jargon style that clients find quite refreshing. "I'm passionate about explaining sophisticated tax concepts in simple terms, and drafting clear documents that can be understood by everyone – not just those in the legal profession," she says.
She founded Skinner Law, PC with the goal of helping Oregon families create advantageous estate and succession strategies, ultimately achieving greater harmony in family relationships. "There's nothing more rewarding than helping a family prevent discord and multigenerational conflict," she says. She also specializes in international estate planning law and likes the complexity of this area of law.
Prior to launching her own firm, Ginger served as general counsel for a large family-owned Oregon business. She gained great insight from this experience on the issues and challenges family-owned businesses face day-to-day.
She frequently speaks on topics related to estate planning such as the Essentials of Estate Planning, Charitable Giving and Benefit Companies to other community and financial organizations.
Ginger also enjoys giving back and being active in the community. She has volunteered more than 120 hours of service with the District Attorney for Multnomah County, in which she prosecuted crimes on behalf of the State of Oregon. She is on the board of directors for the Oregon Chapter of the Alzheimer's Association. The Chapter provides education and support for people diagnosed with Alzheimer's disease, their families, and caregivers. She is an education programs presenter and speaks on topics pertaining to Alzheimer's disease such as Know the 10 Signs, Alzheimer's Basics, and Dementia Conversations (financial & legal issues). She previously served on the planning committee for the Memories in the Making annual gala. When not at work, Ginger spends time in the great outdoors with her miniature Australian Shepherd, traveling and cooking. She is a genuine Oregonian with ancestors who originally came to Oregon on the Oregon Trail in 1846.
Education:
University of Washington School of Law, LL.M. in taxation
University of Idaho College of Law, J.D.
Eastern Oregon University, B.S. in Business
Professional Affiliations:
Member, Oregon State Bar
Member, Washington State Bar
Member, United States Tax Bar
Member, Oregon State Bar Estate Planning and Administration Section
Member, Oregon State Bar Taxation Section
Member, Oregon State Bar Taxation Laws Committee
Faculty, Advanced Estate Planning and Administration 2014, Oregon State Bar Estate Planning and Administration Section ("Benefit Companies: Creating Socially Responsible Family Businesses")
Civic Activities:
Alzheimer's Association Oregon Chapter, Board Member (2016- present); Committee Member for Memories in the Making (2015-present)
Friends of the Children, Scholarship Board (2015-2016)
City Club of Portland, Member (2014-present)
Women in Insurance and Financial Services, Member (2013-present)
Presentations & Publications:
Oregon vs. Washington: Key Variations Related to Community Property, Presentation at the Northwest Planned Giving Roundtable Annual Conference, September 16, 2016
Potential Drawbacks of GoFundMe, Portland Business Journal, August 24, 2016
Know the Ten Signs of Alzheimer's Disease, Presentation, July 19, 2016
All About Benefit Companies, Northwest Planned Giving Roundtable, July 15, 2016
Planning and Caring for Individuals with Alzheimer's Disease, Portland Business Journal, March 14, 2016
What to Learn from Mark Zuckerberg's Donation of Facebook Stock, Portland Business Journal, March 11, 2016
Oregon QTIP Election Versus OSMP Election: The Pros and Cons of Oregon Marital Deduction Elections, June 1, 2015
Foreclosures of Reverse Mortgages: Inadvertent Tax Liability to Estate Beneficiaries, September 1, 2015

A Real Business Plan: Doing What Works for You, February 25, 2015
Working as a Sole Tax Practitioner, January 21, 2015
Benefit Companies: Creating Socially Responsible Family Businesses, May 30, 2014
Now that you're acquainted with Ginger, take a look at our Portland estate planning services or contact us to schedule your first consultation.