Skinner Law News & Events

➧ March 29, 2018: Estate Planning 101 Class
Have questions about estate planning? Not sure what will happen if you pass away without a will? Need information on doing an estate plan? Not sure whether you are receiving adequate information from an executor after a loved one has passed? If so, you need to attend an Estate Planning 101 class. The event is free and includes snacks.
Estate Planning 101 Class Details:
Date: Thursday, March 29, 2018
Time: 10:00 AM – 11:00 AM
Location: Skinner Law, PC, 9600 SW Barnes Road, Suite 125, Portland, OR 97225
Please RSVP to (503) 719-6603 or info@skinnerlawpdx.com. RSVP's are limited to the first 10 people.
Presenter: Ginger Skinner is an estate planning and probate attorney at Skinner Law. She is licensed in both Oregon and Washington. She has been practicing since 2006 and has a specialization in tax law. For more information, please see: www.skinnerlawpdx.com.
➧ October 7, 2017: Aging in Portland Radio Show – Guardianship/Conservatorship: Who's Looking Out For Your Best Interests?
➧ September 30, 2017: Aging in Portland Radio Show – Estate Planning Part 1: Protect Your Legacy With A Great Plan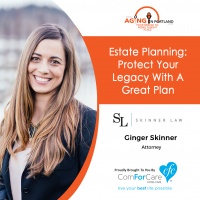 ➧ April 13, 2017: 2017 OWLS Rainmaking Mentoring Circle Kick-off!
➧ March 16, 2017: Coffee Chat: Help End Alzheimer's Disease and Create a Lasting Legacy
Recently Published Articles